Life @ PhonePe
Celebrating Friendships @ PhonePe
Work friends are irreplaceable! Whether it is having that first cup of coffee together as soon as we get to work, to having lunch in the cafeteria together, panicking about meeting those deadlines, or happily celebrating personal and work milestones, we all have our squad to help us get through work every day. This season, we want to celebrate just that kind of friendship.
We called in entries for an internal Friendship Day contest asking PhonePe-rs to share and celebrate their work-bestie stories and, what an overwhelming response we got! Right from stories about work besties having each other's backs when they needed it most, to celebrating each other's wins and in most cases, even extending this friendship outside office, it was a rollercoaster of emotions and laughter. It was really tough shortlisting the winners!
Before we share the winning stories, here's wishing you all a very Happy Friendship Day! We are happy that PhonePe has contributed in some way to being an initiator to so many unique friendships.
Friends Like Family
When I joined PhonePe as a part of the facilities and infrastructure team, greeting guests and PhonePe-rs at the front desk gave me an opportunity to experience friendly and cordial relationships with everybody at the office. But I'm also grateful to have my own troop, whom I can call my besties at work. Whether it is my first friendship in the company with Sreeya when I got the offer letter, or Sukaina who took me through the responsibilities of my role, or mentor, Rintu who has been a pillar of emotional and moral support, or Bidhi and Myna who have been my constants through this journey of transition I've been through personally, today, I'm grateful for the many friendships I've been able to build. Zeena, Ivy, Hitha, and Devika are my break-time buddies.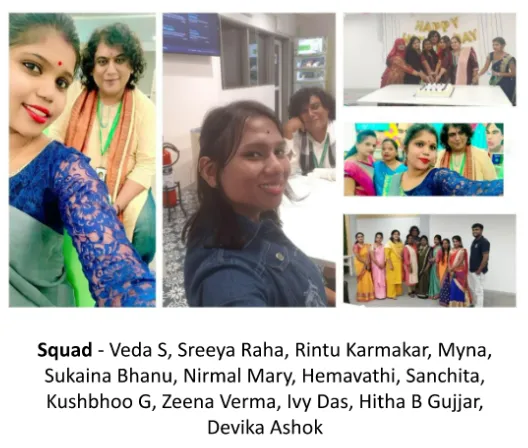 I've also bonded with Nirmal, Hemavathi, Sanchita, and Kushbhoo from the security team over our shared love for food. Once when my landlord randomly asked me to vacate the place at 11 PM on an unfortunate night, Rintu gave me the emotional and mental support I needed to cope with the crisis. My friendship with these work besties goes beyond the workplace and I'm grateful for that.
The PowerPuff Girls — It all started with food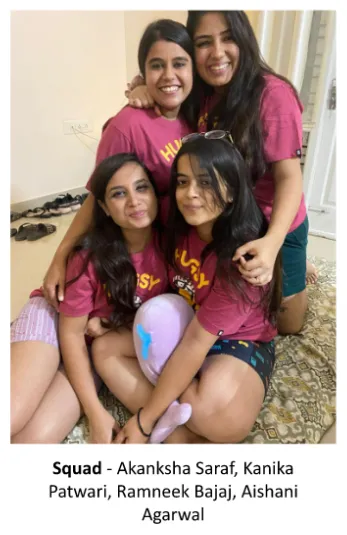 Female friendships are the most under-rated, but they are often also the strongest! In a world full of bros and dudes, PhonePe gave us the best group of girls to fall back on. While we all joined PhonePe together as a part of the MT Program 2021, we became inseparable only after coming to the Bangalore office. What started as our common love for Asian food, has now led to a ritual of visiting a new restaurant every weekend. From shopping trips to impromptu parties to cooking experiments to doctor appointments, we have found our group of four PowerPuff Girls who I know will be there for each other always, through thick and thin!
Mumbai > Bangalore or Bangalore < Mumbai, does it matter?
When I relocated to Bangalore, I was feeling lost and was overthinking about why I shifted base leaving my friends and family behind in Mumbai.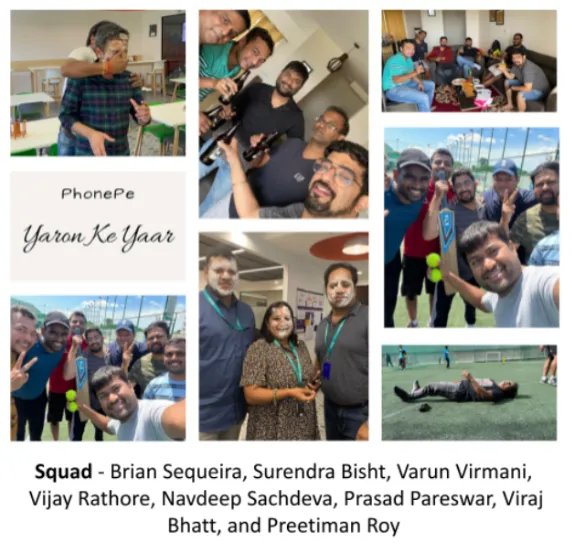 On my first day at PhonePe, I was familiar with just two individuals — Navdeep and Prasad. But little did I know that I was building a new set of friends and family in this new city! We've bonded over impromptu beer and biryani plans at 7 am on Sundays, playing cricket at 8.30 am almost every Sunday, birthday celebrations, and hanging out after office hours! My journey here would not have been as comfortable as it is now if not for this squad I call friends.
Mafia? Or Plan Cancel-ia?
It all started with planning a Holi away from home with a group of PhonePe-rs who were unknown to each other. This plan, like any other plan usually made with friends, got cancelled. But life had better plans and this troop of 10 people formed a WhatsApp group named "PhonePe Mafia".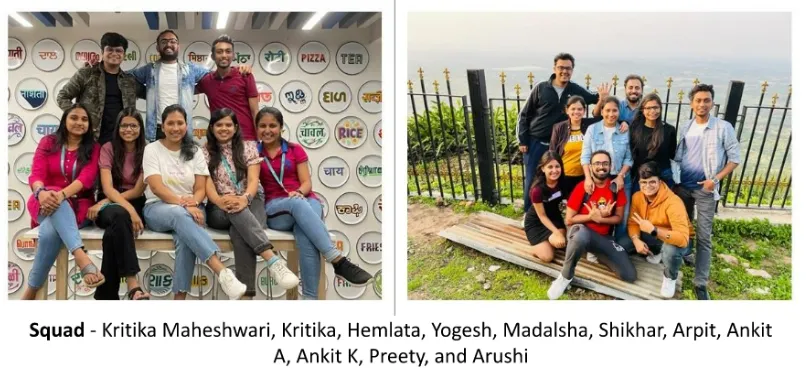 Since then, we've made more than 1,000 plans for trips / house parties / clubbing / or just simply chilling. While 99% of those plans get cancelled (I mean, obviously), the remaining 1% led to a few colleagues becoming friends and now, family. The trip to Nandi Hills, WonderLa, house parties, office lunch sessions, venting sessions, gossip sessions have brought us together and we're a tighter knit of friends now, whether we cancel plans or not!
Food Lovers to Instagram/Google Celebrities to Friends!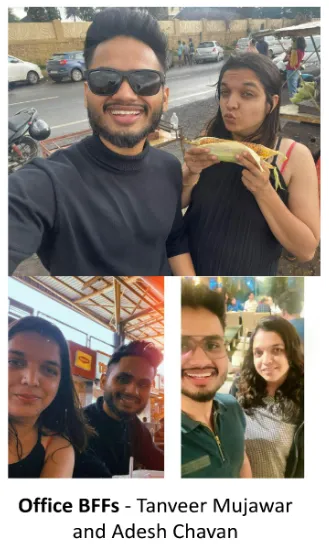 Ours is a friendship which started over delicious food blogging! I am a foodie and I love exploring new restaurants, I also share sincere Google recommendations and photos after I visit a place. It was a Saturday weekly review meeting and being new in the city, I was searching for some nice place for dinner. When Adesh asked what I was searching for, I told him the story and he immediately told me about his Instagram page where he does food blogging. He went on about how he has a 10K follower base and that he has an invite to a beautiful club / restaurant at Malad. Thanks to him, we had a lot of delicious food and this is how our friendship began! Today, we go food blogging together every weekend, because what's better than bonding over our common love for food, right?
Make Some Noise For The Ops Squad on The 6th Floor!
This friendship began over online team games that we used to play every Friday. It not only helped in team building, but also helped us become friends and here's how the Ops Squad of the sixth floor was born!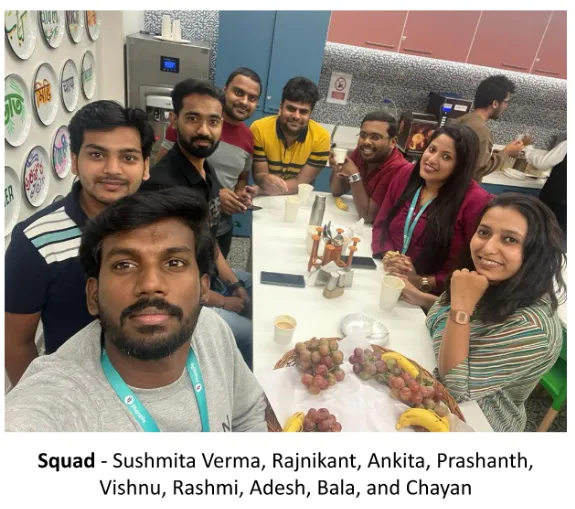 We supported each other through personal and professional hurdles during the pandemic and till date, are the go-to motivators for each other. When it's work time, we're all about work and when it's fun 'o' clock, we're all about talking and having our share of fun. We're happy that this friendship has extended outside the office as well!
Double Dhamaka!
From starting as interns to now being full time employees, we've been friends for what feels like 7 years but in reality it's just been 7 months.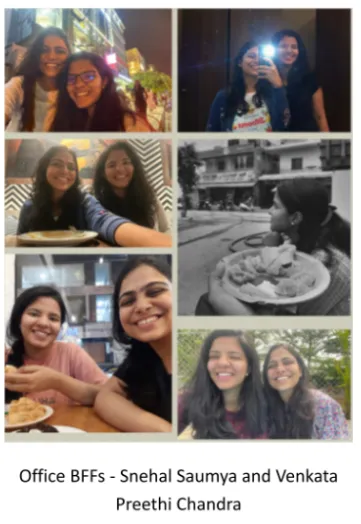 We bonded over an unfinished assignment that we ended up doing together. When the 'return to office' plan was initiated, we were the most excited since it meant that we'd be back to our good old routine of meeting everyday, working together, being lunch buddies, and wrapping up work at the same time. We've become thick friends to the extent that we enjoy each other's company after office hours as well. Impromptu movie plans and sunday — biriyani days are now customary irrespective of the unpredictable weather or traffic issues in Bangalore!
Once Upon A Time There Were Three Sports Fans!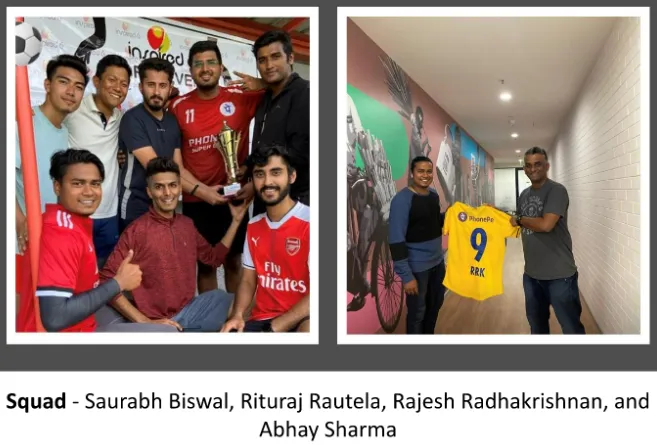 I met Rituraj at a corporate football tournament in 2017 when I was asked to join the team because someone else backed out. What started as a friendship over a common love for sports, ended with Rituraj becoming my manager now! Funnily, my friendship with Rajesh started as a 'Troll at First Sight'. He being a Liverpool Scouser, couldn't stand a 'True Blue Chelsea Fan'. Who knew that would be the beginning of this great friendship we have. Since this squad is all about sports enthusiasts, Abhay and I bonded over our love for Mourinho, a Portuguese professional football manager. I pull his leg often saying he is the epitome of Mourinho at PhonePe!
Soul Sisters FTW!
Ramneek and I met last year during our sales stint at the MT program in Mumbai. We started as strangers but soon became each other's biggest support system. Not a day would pass without us having hour-long calls (this is at least 3 times a day), updating each other on numbers, pushing ourselves to do better and honestly, just being each other's sounding boards on bad days.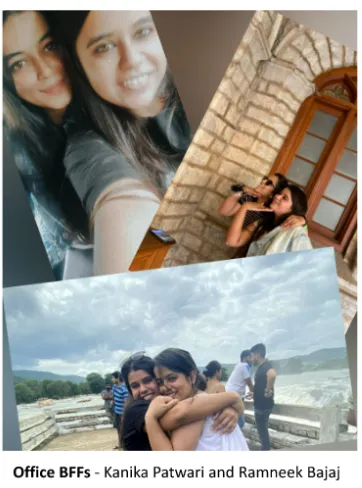 As soon as our sales stints ended, Ramneek got an opportunity in the central team and I moved to Kolkata for my next stint. But this didn't affect our friendship. Little did we know that shortly after, we'd connect again on a different project! When I had to move to Bangalore, Ramneek was the most excited. Our choices, from food and clothes to travel are very similar and so is our personality — typical Virgos. The cherry on the cake is that we look so similar that we've often been confused with each other, haha!
Friend, Mentor, Sister, Brother — Do We Need to Define it?
Sarina and I first met at Holy Ghost and St. Francis Xavier's Cathedral and we've been friends for over 10 years now.
She's an overachiever and has been mentoring me to dream big and take on more responsibilities. Every time she nicknames me by the fruits I get her from my little farm in Hoskote, she becomes a sister-figure — something I never had. Sarina teaches me to celebrate life and to look at the bigger picture professionally and personally which I admire about her. From being buddies to colleagues and now, this mentorship journey, we've grown as individuals and supported each other through different walks of our life and I'm thankful for this friendship.
Two Peas in a Pod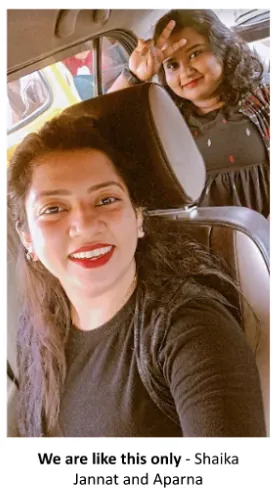 I was new to PhonePe and was facing cab pick up and drop issues. One day when the roaster arrived at my Gmail, I was sorting places and the cabs allocation. That's when I called Aparna to talk about her route. One fine day, we ended up in the same cab! But that still wasn't where this story began as we limited our conversations to just being cordial in the initial days. The best part is, I don't really remember when formality turned to friendship since it felt very free-flowing and comfortable to be friends with her. We discuss everything under the sun, we laugh like there's no tomorrow and that's how we've become close. We check on each other when the other person is sick/unwell and support each other at work as well. To have a non-judgemental friend is a true blessing and that's what Aparna is to me!
Four + Seven = Besties Forever!
We were strangers in the training room until we started talking to each other. Fast forward to present day, we are the bestest of friends!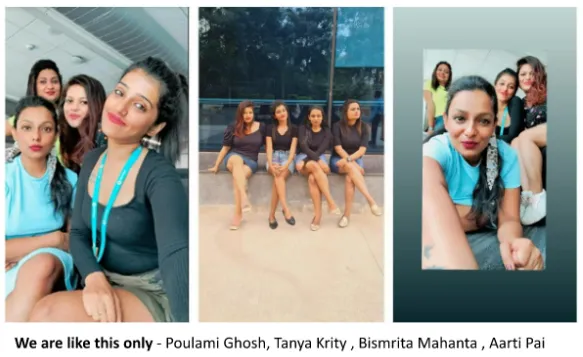 Starting from being strangers to now, the "Fab 4" as we call it, our journey has been awesome in these seven months. We've been a support system for each other, sharing and ranting about our troubles while also enjoying life to the fullest. With us, work is work and fun is fun but we're in it together, always!