Milestones
PhonePe Crosses 2 Billion Transactions on the App
PhonePe Crosses 2 Billion Transactions on the App
We are delighted to announce that we just hit another important milestone in our journey! We recently crossed the 2 Billion digital payment transaction mark on the app. PhonePe had crossed the one billion transactions milestone in November 2018, and has doubled this number in under 5 months.
This milestone has been driven by PhonePe's phenomenal growth and acceptance across large and small offline and online merchants across the country. Our online and offline merchant transactions have grown 5x in the last 6 months.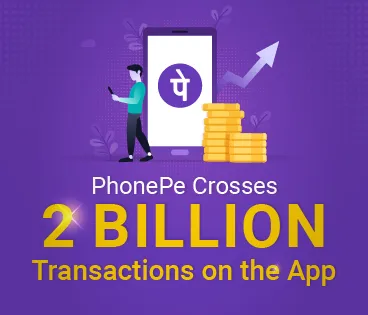 This year started for us on a very positive note as we hit the 1 million merchant mark in January and we have already tripled our merchant acceptance number to over 3 million merchants across 130 cities in India. This growth has been fueled by our customized payment solutions for different segments. Small merchants can use the ubiquitous QR Code solution, that just requires a feature phone to get started, while more organised merchants can use our Billing POS Integrated Solutions. Our solutions do not require extensive training for cashiers or proprietors and this has lead to a massive surge in our reach across both urban and rural markets.