Milestones
PhonePe crosses a Billion Transactions
PhonePe crosses a Billion Transactions
Last month we crossed a billion transactions on the PhonePe app. This happened within 26 months of our inception, making it the fastest pace at which any Fintech-Payments company in India has achieved this milestone. In June 2018, we had crossed 100 million users, and the PhonePe platform today drives a majority of all merchant UPI (United Payments Interface) transactions in India. Here's what has lead to this phenomenal growth for us: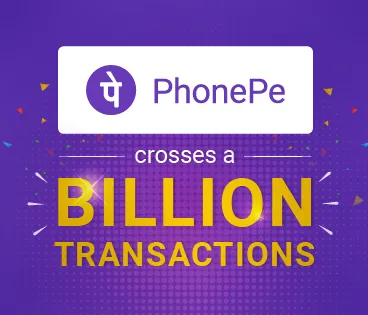 Leadership in the P2M space
The rapid adoption of UPI as a payment mode across online and offline merchants in India has helped us to grow across multiple use cases. The PhonePe app drives the highest number of merchant UPI transactions in India and we are accepted as a payment option across 7.5 lakh offline and online merchant outlets covering food, travel, groceries, movie tickets etc.
One app for all your needs
From Money Transfers to Recharges, from Bill Payments, and buying 24 Karat Gold, customers across India use us for a variety of use cases. Based on customer feedback, we have also launched features like bill reminders and Autopay. With bill reminders, customers can enjoy a frictionless payment experience eliminating the hassle of late fee payments. Customers can also enable the Autopay feature by linking their debit/credit card and their bill will be automatically paid once generated every month.
Integration of microapps on our platform
A highlight for us this year has been the introduction of micro-apps on our platform that allow other businesses/companies to build their own exclusive stores on the PhonePe app. This is a part of our vision of being an open payments ecosystem, enabling businesses of all sizes to build and deploy apps with a unified login and payments experience for our users. A total of 12 apps are currently live on PhonePe including redBus, Goibibo Flights and Hotels, IRCTC, AbhiBus, OlaCabs, Treebo Hotels, Myntra, Coolwinks and ZEFO. Users can now make all their travel bookings like flights, hotels, buses, cabs, metro tickets and trains. We have also added apps in the food category with players like Eat.Fit and Faasos currently on-board.
"A Billion transactions is both exciting and humbling, considering the incredible pace at which we have achieved this target and the immense opportunities ahead it presents for us. The growth and adoption of PhonePe has surpassed all our expectations and we thank all our users for helping us achieve this incredible milestone. We're also grateful to Flipkart, our parent company, for the constant source of support that it has provided us since inception. We would not have been able to scale up our operations this rapidly without their unwavering support" said Sameer Nigam, our Founder & CEO.
"Fintech and digital payments is one of the most promising industries in India today, and we're delighted to see the pace at which PhonePe is growing, as well as the love it enjoys among users. We remain fully committed to supporting PhonePe in its goal to become the most preferred digital payments app in India, while it innovates to solve complex problems and penetrates deeper into India to support financial inclusion." said Kalyan Krishnamurthy, CEO, Flipkart.