Milestones
PhonePe launches app-in-app platform with redBus as the first partner
PhonePe launches app-in-app platform with redBus as the first partner
We have entered into a strategic partnership with redBus, the world's largest online bus ticket booking service. As a part of the partnership, Redbus has now gone live with an exclusive store on our app.
This partnership is part of our vision of being an open payments ecosystem, enabling businesses of all sizes to build and deploy apps on our platform with a unified login and payments experience for customers. This will enable businesses to reach out with their services to over 65 million users who have installed our app.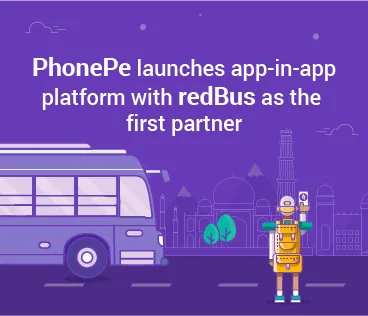 Commenting on the partnership, Rahul Chari, our Co-founder & CTO said, "We are delighted to partner with redBus and offer our customers a frequently-used service, such as online bus booking, inside the PhonePe app. We are the first transaction platform of this scale to open up for businesses to build their experiences within the app. Consumers can continue to enjoy the digital and fulfillment experience of their favorite apps from within PhonePe while being assured of the reliability and integrity of their payments. This will allow businesses to focus on service offerings instead of worrying about distribution."
"We want to take the ecosystem first approach and our ambitions are to build platforms which enable businesses and partners to leverage the PhonePe network to the fullest. Our core belief is that open ecosystems always succeed by creating a win-win equation for both customers and service providers alike. We will continue to invest in enriching the platform capabilities to make it more and more developer friendly." added Vishal Gupta our Head of Product.
Manoj Agarwala, Vice President of redBus, said, "We are extremely excited to launch our services in the PhonePe app. This strategic and exclusive partnership would enable us to reach out to a wider user base beyond our existing platforms. PhonePe has taken a unique approach to solve digital payments, which will further support our endeavor of providing a hassle-free bus ticket booking experience across the country. We expect many customers to take maximum advantage of this win-win partnership."
This partnership is in continuation with our strategy to build an ecosystem of innovation. Recently we had launched an innovative made-for-India Point Of Sale (POS) and we are opening up the SDK so that multiple partners can contribute in building the ecosystem. We have already integrated third party wallets like FreeCharge and Jio Money on our platform to give users more choice and flexibility.
Currently, our focus is on adding more partners to the app-in-app platform and to provide various options to businesses to participate in the ecosystem.