Milestones
PhonePe Partners with Ola to Launch the Industry- First AutoPay Feature
PhonePe Partners with Ola to Launch the Industry- First AutoPay Feature
We are excited to announce our partnership with Ola, India's leading and one of the world's largest ride-sharing companies, to offer users a hassle-free cab and auto booking experience.
Users can now book an Ola using the PhonePe app. With this integration, users will have access to Ola's multimodal commuting offerings, along with the benefit of using the industry-first AutoPay feature. The integration with Ola enhances the ecosystem and also allows our users to pay for their mobility needs, which is one of the most important daily use cases. With both the companies already catering to a large user base, this also becomes the first large scale implementation of AutoPay (through standing instructions) for ride bookings in India.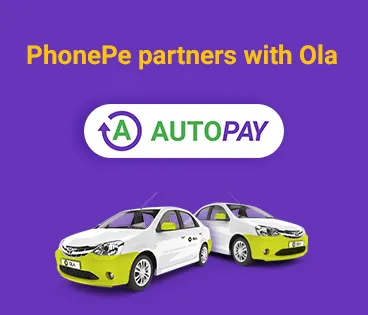 Through AutoPay, users just need to link their preferred Credit/Debit card for a Ola ride in the PhonePe app once, and their ride-fare will automatically be paid at the end of every ride. Users also have the flexibility of setting and switching off AutoPay instructions anytime they want.
Commenting on the partnership, our Co-founder and CTO Rahul Chari said, "Ola is the largest smart mobility player in the market and we are delighted to partner with them. With this partnership our users can enjoy the ease of using their preferred ride sharing app from within PhonePe while being assured of the reliability and integrity of their payments. Ola's scale and reach, topped with our Auto-pay feature will enable greater convenience and control to our users while making payments seamless."
Ankit Bhati, Co-founder and CTO, Ola, said, "At Ola, we are focused on building products and services that enrich customer experience on our platform. Through this integration, millions of PhonePe users will be able to avail Ola's services and offerings seamlessly. Such partnerships drive the vision of Digital India, getting more users to experience the benefits of online services. As two of India's popular homegrown brands, we will capitalise on each other's strengths to enable smart, sustainable and inclusive mobility for India."
The Ola micro-app is also a big technology milestone for us as it has been built ground-up by our team using the Ola developer platform. It is the first of its kind mapping application using react native that provides not just location but navigation with directionality, matching the experience of native iOS and Android maps.
We have also abstracted a lot of common functionalities like tracking, status notifications, in-app communication that other in-app categories can exploit. In the future, these will be available for other partner apps as well. This partnership is part of our vision of being an open payments ecosystem, enabling businesses of all sizes to build and deploy apps on its platform with a unified login and payments experience for its users. This will enable businesses to reach out with their services to a highly relevant and rapidly growing base of over 100 million PhonePe users.
Going forward, PhonePe is rapidly adding partners in the travel, hospitality, ticketing and food segments to its micro-app platform.