Milestones
PhonePe Switch drives growth for Eat.Fit
PhonePe Switch is powering growth and customer acquisition for partners. Here's a case study on how Eat.Fit was able to acquire new customers and reach out to new geographies with PhonePe Switch.
The challenge: EatFit is trying to promote healthy eating, and is rapidly expanding its footprint across India, having launched in Mumbai, Pune, Mysore, Ahmedabad, Faridabad, Chennai in the last quarter. They have been trying to grow their online orders in existing cities, as well as newly launched cities. Doing this in a cost effective manner is hard, especially in new geographies.
The solution: After trying a few different channels, EatFit decided to try PhonePe Switch. PhonePe Switch provides an effective channel for driving customer acquisition across a wide geographical area in India, at a very low cost, making it an ideal partner for any rapidly growing consumer facing business like Eat.Fit.
'PhonePe Switch' provides a one-click entry point to a world of apps on PhonePe. It allows customers to seamlessly switch between PhonePe and their favourite food, grocery, shopping and travel apps from within the PhonePe app itself. Users can login to these apps without downloading them, with just a single tap. PhonePe Switch also helps partners showcase exclusive offers and discounts to over 65 Million monthly active PhonePe users.
The impact: Today, over 50 % of Eatfit's web orders come from the Switch platform, the highest growth having come from NCR and Ahmedabad. On a monthly basis, 30% of PhonePe Switch's customers to Eat.fit are new. This allows them to rapidly reach out to new customers. At the same time, customer acquisition cost on PhonePe Switch is 20% lower than the next best acquisition channel for Eat.fit.
The conversion rates on Switch are even higher than EatFit's own website, showing how a wide target base combined with precision offer targeting can significantly boost traffic and revenues, while keeping costs low.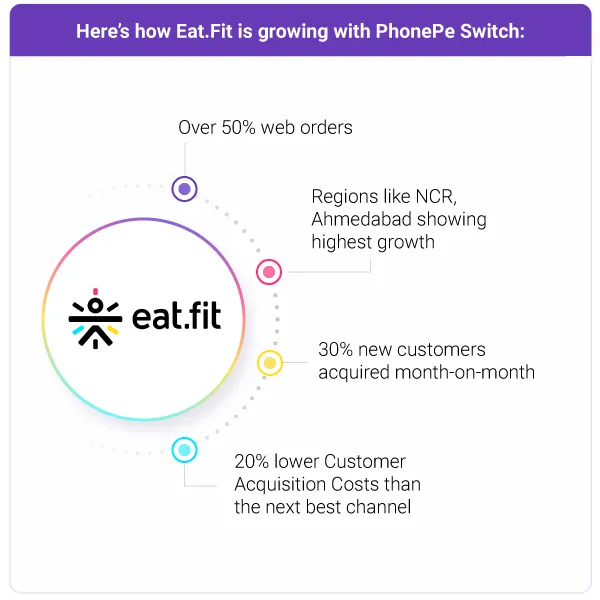 Ankit Nagori, co-founder, Cure.Fit, "Consciously making a choice to eat healthy everyday can be hard. We make it easy, by providing a healthier version of your favourite food at your doorstep. In this mission to make healthy food accessible to more consumers, we've partnered with PhonePe Switch. Around 30% of PhonePe Switch's customers to Eat.fit are new every month across different markets and the number will grow as both the brands grow."