Pulse Bytes
PhonePe unveils Insurance data on Pulse
PhonePe launched Pulse in 2021, with the aim of demystifying data on the Indian digital payments ecosystem. Pulse is India's first and only interactive geospatial platform offering deep insights, in-depth conversations and interesting facts on how the payments landscape in the country is evolving.
As market leaders in payments with 50% market share (by value), the insights and trends that our data reveals are representative of the country. Taking the open data philosophy forward, PhonePe has now announced the launch of its Insurance data on PhonePe Pulse. A first-of-its-kind initiative, by any intermediary in the Indian insurance industry, Pulse is now democratising access to rich insurance data. The Insurance Pulse data is visually represented on a map of India and showcases the scale of insurance coverage that PhonePe has driven across the country since 2020, and also deep-dives into top states and districts driving this growth.
PhonePe has always kept the customer at the heart of any offering it has developed. Taking a similar customer-first approach, PhonePe first made deep investments in intensive research to understand customer needs, and the overall Insurance markets and then tailored the right digital solutions to meet those needs. PhonePe has also made heavy investments in its tech architecture to ensure efficiencies of time, speed, with the comfort of simplified payment flows for the end user. Simplifying the product journeys and presenting all the terms, coverages and exclusions to users in a transparent and user-friendly manner has been another key tenet on which the Insurance offering was built. Today, PhonePe has one of the fastest onboarding/purchase journeys in the industry where it takes a customer less than two minutes for a policy to be issued.
Besides tech efficiencies, there has been a concerted effort to forge strong ties with the end consumer through deep engagement, building long-standing trust by ensuring consistent and relevant education on products , and the solutions being easily accessible across geographies.
All these efforts have helped PhonePe augment reach, engagement, and adoption by users even in the hinterlands. The PhonePe Pulse data validates this. The number of insurance policies purchased on PhonePe has grown 225 times in Q4 2022, as compared to Q1 2020, clearly indicating that India is understanding the importance of insurance to future-proof their lives.
PhonePe's focused efforts to drive insurance penetration in the country have resulted in more than 60% of our business coming from beyond Tier 2 cities and towns. Users in small towns now have access to insurance products leading to massive insurance consumption and thereby driving the goal of financial inclusion.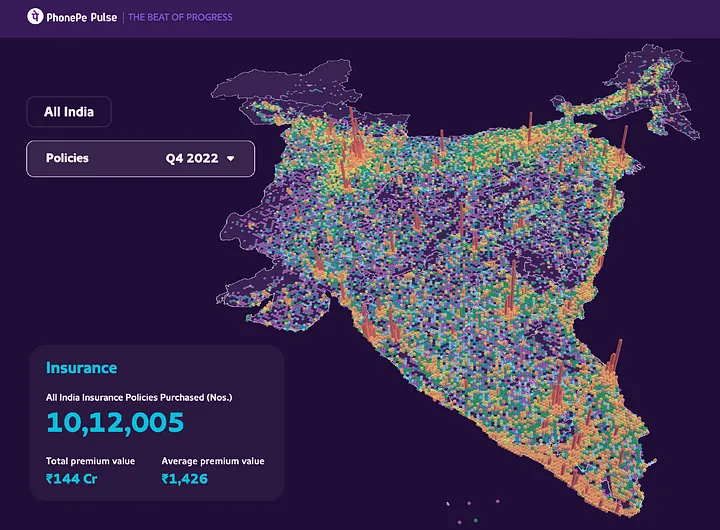 The Insurance data on the PhonePe Pulse platform aims to provide an in-depth view on the adoption of insurance across India. This data will help start-ups and businesses to tap into the right target audience and create opportunities for businesses to thrive.