Trust & Safety
Save yourself from Frauds on Twitter — Beware of Fake Helpline Numbers!
Twitter as a social media platform is one the best ways to connect with customers and resolve their issues. The response is immediate and users trust the information posted there.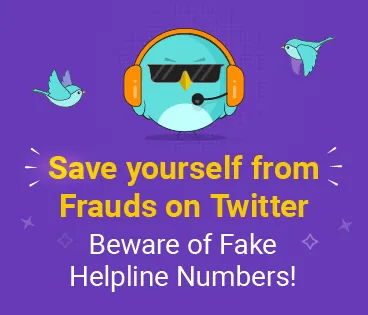 However cases of fraud through fake Twitter accounts have been on a rise recently.
This is how Twitter frauds work:
– PhonePe customers use the original handle: https://twitter.com/PhonePe and tweet about issues related to redeeming offers, availing cashback, money transfers, initiating refunds, linking their bank account on PhonePe and more.
– Fraudsters keep track of what's being posted and react immediately. One popular way to steal money from a user's account is tweeting fake customer care numbers and calling them PhonePe helpline numbers.
– Unaware, customers call on the fake helpline numbers that the fraudsters have tweeted and report that they haven't received a cashback or request a refund for a failed transaction.
– To resolve the issue, fraudsters ask customers to share sensitive information such as card details and the OTP details received on their phone.
– To win a customer's trust, fraudsters may also raise a collect call from their number to the customer's number and promise them a cashback as well.
– As soon as customers share their card details, OTP or accept the collect call, the money gets transferred from the customer's account to the fraudster's account.
Important reminder- PhonePe never asks for confidential or personal details. If you are asked for such details by anyone posing as a PhonePe representative, please ask them to send you an email. Also, only respond to emails from the @phonepe.com domain.
Here's how you can stay safe:
Connect with us only on our official accounts across various social media platforms.
● Twitter handles: https://twitter.com/PhonePe
● https://twitter.com/PhonePeSupport
● Facebook account: https://www.facebook.com/OfficialPhonePe/
● Web: support.phonepe.com
In case your card or account details get compromised:
Report to

[email protected]

Approach your nearest cyber-cell and file a police complaint